German, Premium?, Tier?, Tank Destroyer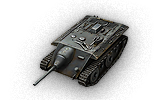 This icon was a supertest leak.
The E-10 will be in the game, but it will not have it's variable suspention.
The ingame description has also been leaked: A proposed light tank destroyer weighing about 12 tons. Its most innovative feature was to be the ability to adjust the ground clearance, changing the vehicle's height from 1760 to 1400 mm. The vehice would be powered by either the Maybach HL 100 or the Argus engine. Development was discontinued in favor of the Hetzer.
Ad blocker interference detected!
Wikia is a free-to-use site that makes money from advertising. We have a modified experience for viewers using ad blockers

Wikia is not accessible if you've made further modifications. Remove the custom ad blocker rule(s) and the page will load as expected.