French, Premium?, Tier?, Heavy Tank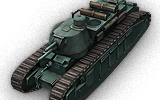 This icon was a supertest leak.
Update: the Chieftain (US Tank expert) said this vehicle will come and is not forgotten.
The Char 2C and Char 2C bis were the largest production tanks ever with about 10 built.
Wikipedia article here: http://en.wikipedia.org/wiki/Char_2C
Ad blocker interference detected!
Wikia is a free-to-use site that makes money from advertising. We have a modified experience for viewers using ad blockers

Wikia is not accessible if you've made further modifications. Remove the custom ad blocker rule(s) and the page will load as expected.